Google is well-known for offering free productivity apps that you can access at no cost or with a subscription to Google Workspace. And so, you probably already know about Google Sheets, which is Google's spreadsheet app and the company's answer to Microsoft Excel. As a spreadsheet app alternative, it's natural to want to compare Google Sheets and Excel to see which one is better.
And then, of course, there's Smartsheet.
It's easy to mistake Smartsheet for another spreadsheet app and another alternative to Google Sheets and Microsoft Excel. However, despite what the name might suggest (and the spreadsheet style used within), Smartsheet actually serves a different purpose entirely. But what purpose is that exactly?
In this Smartsheet vs Google Sheets comparison, we'll take a closer look at each app to compare their core purpose, features and functionality, and more. So, let's get right to it!
Smartsheet vs Google Sheets At-a-Glance
One of the best ways to compare two things is to look at them side by side. And so, we've put together the table below. In this table, you'll be able to see the Smartsheets vs Google Sheets at a glance. This comparison looks at each tool and examines their core functions, features, and more.
Comparison
Google Sheets
Smartsheet
What is it?
A spreadsheet app that functions much like Microsoft Excel and offers many of the same formulas and functionalities
A project and task management Software-as-a-Service (SaaS) app using a spreadsheet-like interface
How it works
Access Google Sheets through your web browser or using the iOS or Android apps. Use this app to create spreadsheets
Uses a spreadsheet-like UI to allow users to build a rich and interactive experience for managing their projects, tasks, and more
Collaboration Features
Users can easily share Google Sheets files via the link or through the sharing functionality. Users can leave comments and @ each other. Multiple users can access and collaborate on a sheet at a given time.
Uses plenty of built-in tools and collaboration solutions, including many third-party integrations that allow users to bring Smartsheet into their existing tech stacks
Features and Functionality

Full-featured spreadsheet app that functions much like Microsoft Excel with some limitations
Seamless integration with other Google productivity apps
Plenty of third-party apps and extensions available to extend functionality
You can buy many templates online on websites like Etsy

Countless integrations with other tools, more information here
Flexible and versatile, offers many views, reports, workflows, and dashboard options to allow better project and/or task management
Works well at practically any scale

Platforms
Web, Android, iOS, ChromeOS
Web, Android, iOS
Cost

Available for free
Certain features only available with a Google Workspace subscription costing $6 to $18 a month depending on your plan
See full pricing details for Google Workspace

Pro (up to 10 users) $9 per user per month or $7 per user per month billed annually
Business (min. 3 users) $32 per user per month or $25 per user per month billed annually
Contact sales for enterprise pricing
Smartsheet vs Google Sheets Compared in Detail
The table above goes into the detail you need to find out more about Smartsheet and Google Sheets — or at least enough detail to compare them more closely. But if you'd like to learn more about each one and better understand the Google Sheets vs Smartsheet comparison, we've broken both down into more detail below.
What is Google Sheets?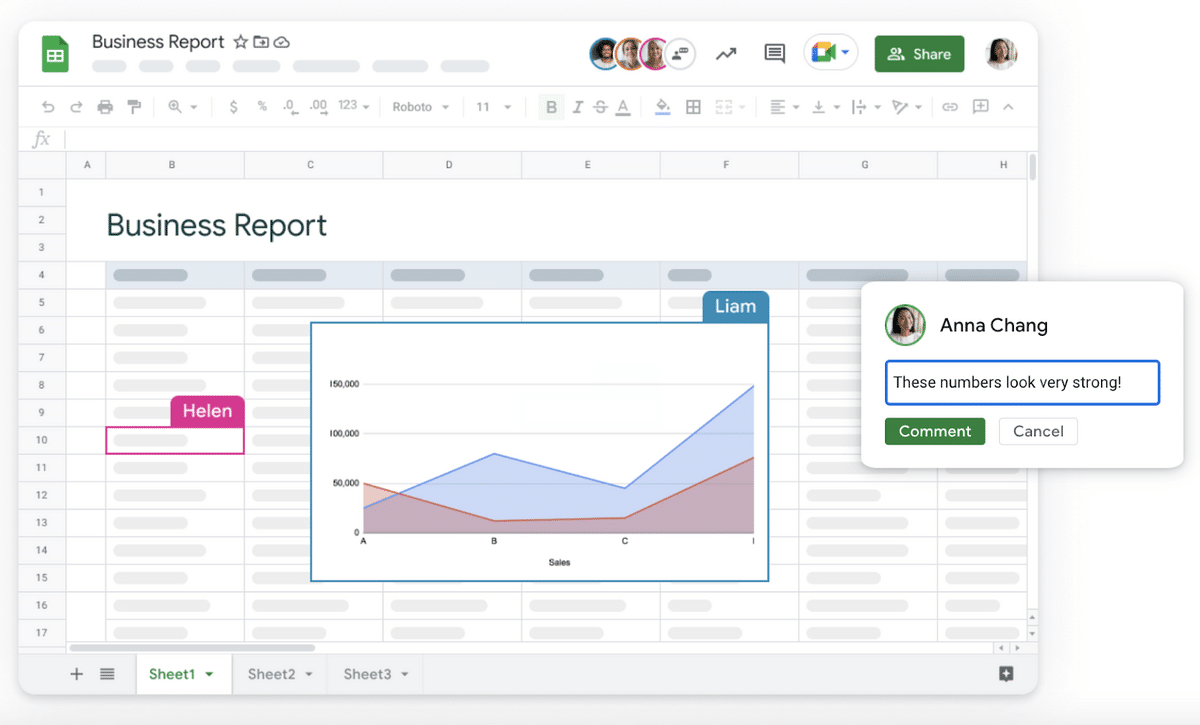 The spreadsheet app Google Sheets came out in 2006, offering users a free alternative to Microsoft Excel. It started out as a web app and now has apps on Android and iOS. Google Sheets has rows and columns, much like any other spreadsheet app. It also uses formulas and similar functionalities to perform various calculations and pull or format data. There are plenty of third-party apps, extensions, and templates you can use with Google Sheets.
Google Sheets is an excellent app that can do the vast majority of data-related tasks users might need to do, and it does it all at no cost. It syncs seamlessly with Google's other products and even with Google Drive, which you can also access for free for the first 15GB of storage.
Although Google Sheets is free, that doesn't mean it's lacking in functionality. Plus, thanks to the vast amount of third-party resources available, there's a good chance you'll be able to add missing functions back in using an extension or similar.
Thanks to the popularity of this app, there are countless tutorials and learners' resources available online. For example, you can check out our article on the best Google Sheets tips and tricks.
To really become a Google Sheets expert, we recommend this Comprehensive Google Sheets Master Class.
Google Sheets Pros and Cons
Pros
Cons

Available 100% for free
Can do most of the things you need from a spreadsheet app thanks to the functions and formulas available
Has iOS/Android apps
Syncs seamlessly with other Google products and Google Drive
Plenty of third-party add-ons

Has some limitations compared to Microsoft Excel
Relies on an internet connection to sync information and save to the cloud
May sometimes lag or glitch
What is Smartsheet?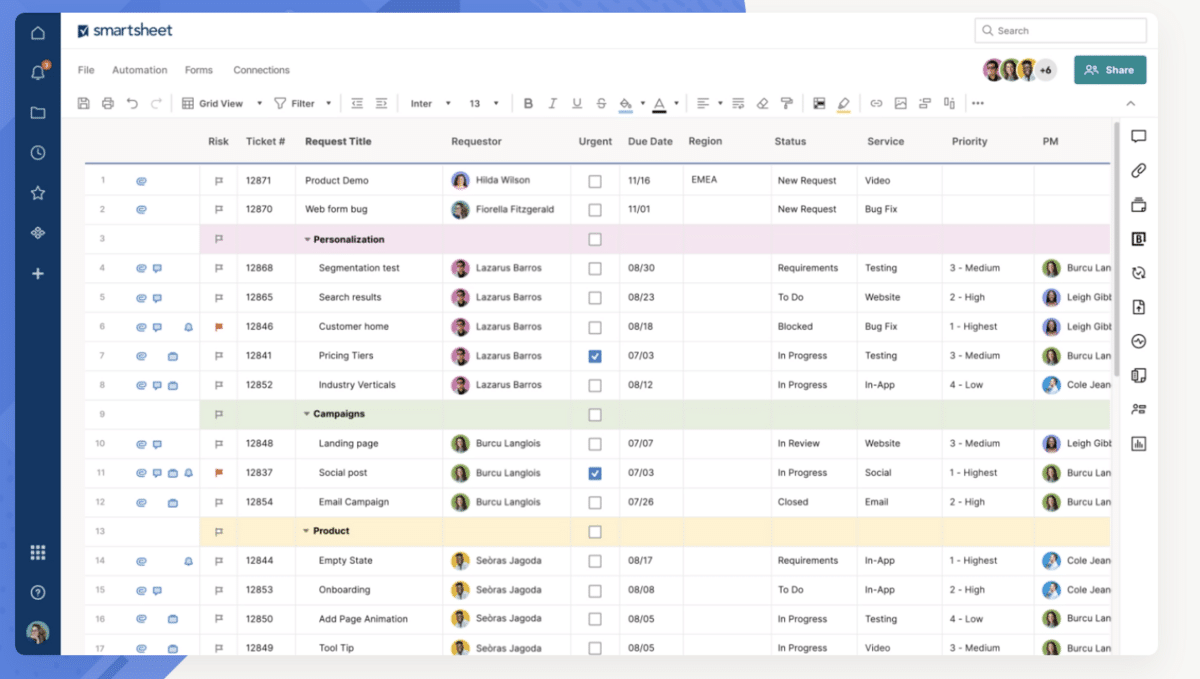 Like Google Sheets, Smartsheet came out in 2006 (though it was in development a year before). It is a software-as-a-service meant for teams. Smartsheet has plenty of features and functions that help make task and project management simpler and collaboration much smoother. It uses a spreadsheet-like workspace, which is why many may think it's a spreadsheet app exclusively.
Smartsheet Pros and Cons
Pros
Cons

Works at any scale, with plans available for individuals and small teams, businesses, and enterprises
Offers a unique project and task management solution that's different compared to others
Tons of integrations available to allow you to add Smartsheet to your existing tech stack
Despite the somewhat complex UI/UX, relatively easy to pick up and learn

Subscription price model means costs can and will add up
Not the easiest user interface or experience to get used to
Frequently Asked Questions
Are Google Sheets and Smartsheet the same?
Not exactly! Although their names might lead you to think that they are, Google Sheets and Smartsheet are, in fact, not one and the same. Google Sheets is a free spreadsheet app (like Microsoft Excel) available with Google Workspace (or via the app on mobile devices). And although Smartsheet follows a spreadsheet format, it is primarily an online collaboration and project management tool.
Does Google have something similar to Smartsheet?
Are you asking, "Is there a Google Smartsheets?" That's a fair question. Google seemingly has an app for everything these days, at least in the productivity world. However, the answer is no — Google doesn't have an exact alternative to Smartsheet. The closest you can get is using a mix of Google Sheets and Google Calendar to track your tasks.
Is Smartsheet better than Google Sheets?
Because we're comparing Smartsheet and Google Sheets, it's like comparing apples and oranges. Smartsheet is a project management and collaboration tool at its core, while Google Sheets is a spreadsheet app much like Microsoft Excel. The answer is yes, Smartsheet is better — but only if you're looking for a project/task management and collaboration tool.
Conclusion
In the battle between Smartsheet vs Google Sheets, there isn't a true winner. Both apps are meant for different purposes, which means it's truly tough to compare them to each other.
We'd say if you're looking for a spreadsheet-style project and task management app with collaboration features, then do try Smartsheet! On the other hand, if you are looking for a spreadsheet app like Microsoft Excel (or Apple's Numbers), Google Sheets is one of your best bets.
Did you start in Google Sheets only to find out you needed to use Excel instead? Don't lose your progress — check out our full guide on how to convert Google Sheets to Excel.
Related: